BILL AND JIM STRENG - BUILDERS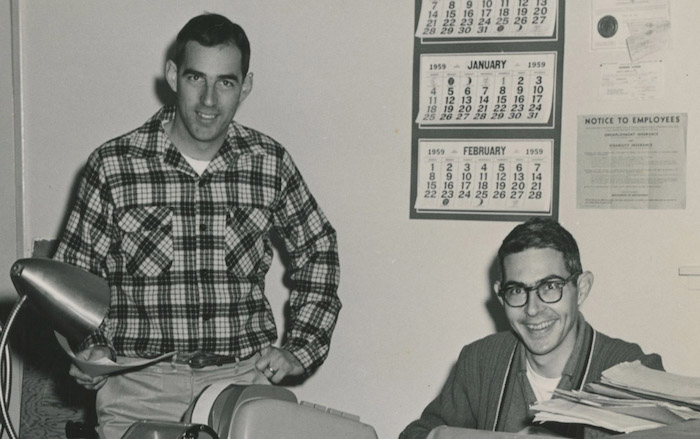 Brothers Bill and Jim Streng, working primarily with architect Carter Sparks, built over 3,800 homes in the greater Sacramento area over a 30 year period.

The predominately modern homes were extremely popular with educators, lawyers, and especially architects. Featuring exposed beams, walls of glass, and high ceilings, most of the homes were sold before they were built and located in approximately 40 subdivisions and on individual lots. Some Streng subdivisions included more affordable half-plex models along with their single detached counterparts.

With their partnership with Carter Sparks, the Streng Bros. brought a modernist vision to the Sacramento region that is both admired and coveted to this day.

---
Via [ 60 years of Streng Bros Homes | 2019 Sacramento Mid-Century Modern Home Tour ] SacMod 2019
Bill and Jim Streng grew up in Scranton, Pennsylvania, and studied at Dartmouth.

At age 16, Jim began his building career early after being invited to work in Sacramento by his uncle, Phil Heraty, a regional contractor. Jim continued his work in Sacramento during the summers that followed.

In 1957, when Heraty retired, Bill and Jim took over his Sacramento business, and formed Streng Bros. Homes.

Jim Streng estimates that he and his brother, Bill, sold approximately 3,800 homes over the course of 30 years in Yolo, Sacramento and Placer counties. This number is based upon a rough calculation of the number of homes, on average, they built per year. At first, the Strengs built conventional ranch homes like their uncle, but soon decided to switch production to modern homes in order to distinguish themselves from other builders. Their modern (known as "contemporary" at the time) homes were designed by architect Carter Sparks, whom Jim and Mary Jo Streng first met at a parenting class in 1958, along with Sparks' wife, Billie. At first, Sparks declined to design homes for the Streng brothers — but eventually changed his mind.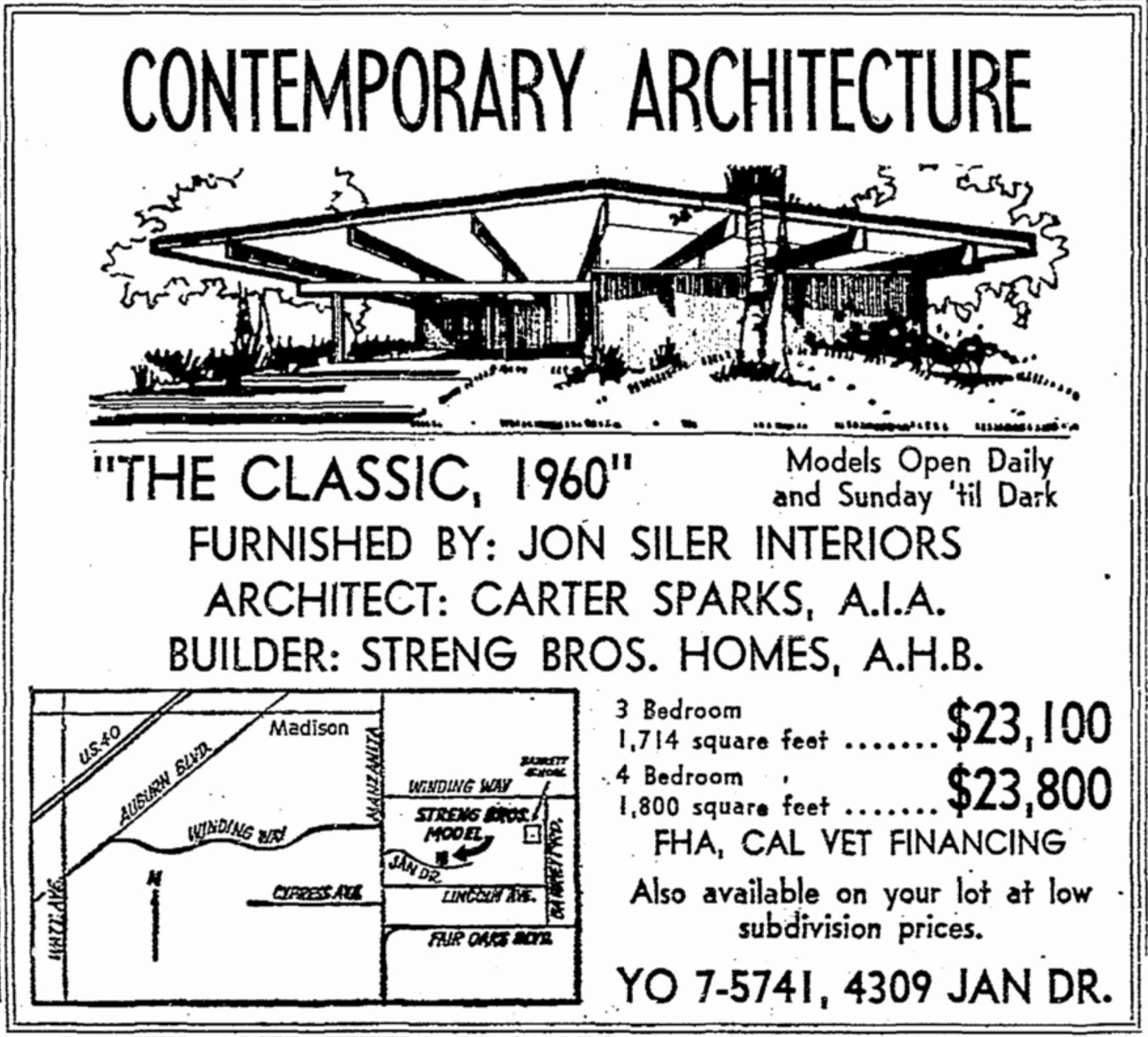 Sixty years ago, in 1959, Sparks designed the first Streng Bros. Home: Model 601, or the "Carter Classic," as the Strengs called it. It offered a flexible plan, including three or four bedrooms and a living area that merged the dining room, living room, and kitchen. A variety of roof lines and elevations provided diverse but unified options while being grounded around the same basic plan. 4313 Jan Drive, in Carmichael's Barrett Hills neighborhood, was the first 601 plan home to be completed. An ad in the Sacramento Bee on March 27, 1960 announced its arrival.

Sparks' designs for the Streng Bros. included a huge variety of styles from which to choose: houses with carports, garages, pitched roofs, flat roofs, pop-tops,two-story homes with balconies and loft spaces, pyramids, homes with indoor atriums capped with eight foot domed skylights with tinted acrylic, Sea Ranch style wedges, duplexes, and halfplex models in different shapes and configurations.

The Streng Bros. pre-sold homes (before they were built) and, to avoid monotony and uniformity, models could be reversed and otherwise modified and customized according to the buyers' wishes. The use of stock plans that were FHA-approved made them even more affordable. While a small percentage of homes were built on the customer's own lot, the majority of them were built over time in subdivisions developed by the Strengs.

Interiors for the first model home (and many subdivision model homes over the years thereafter) were by designer Jon Siler; later subdivision model interiors were done by Miles Treaster. Jim and Bill worked hard—often six days a week—and always used the model home as their office. A 2011 report by Caltrans regarding the history of mid-century era tract homes identified Streng Bros. Homes as one of the "nine most important merchant builders in California during the 30 years that followed World War II."